CD's and
DVDs
For more details on ordering a CD or DVD
Nguzo Saba
Nguzo Saba, the higly anticipated third recording from The Nathaniel Dett Chorale is a beautiful blend of classical, gospel and jazz. Joined by guest artists Joe Sealy, Paul Novotny, Joy Brown and Larnell Lewis, the Chorale performs an exquisite collection of repertoire from the African diaspora.
Listen to the Lambs
The debut recording of The Nathaniel Dett Chorale features the some  of the most beautiful compositions and and arrangements of spirituals by the choir's namesake, Canadian composer R. Nathaniel Dett. From the deeply moving 'O Holy Lord', written in honour of soldiers fallen in battle in the First World War, to the poignant 'Listen to the Lambs,' to the jaunty 'Chariot Jubilee', this disc shows Nathaniel Dett's unique and distinctive voice, his exceptional range, and his flawless assimilation of a wide variety of musical influences.
Immerse yourself in the musical history of R. Nathaniel Dett, and the foundation of The Nathaniel Dett Chorale.
An Indigo Christmas - Live!
A 15-track CD of live performances featuring The Nathaniel Dett Chorale with guests Jackie Richardson, Joe Sealy, Kwanza, Kenneth & Nation.
The word indigo calls to mind many things: colour, spirituality, mood, reverence, blues, soul, synthesis, unity, invocation, and ritual, to name a few, and we can each add something from our own experience to that list. Designated as one of the seven prismatic or primary colours, indigo has a unique harmonic vibration and energy that seems fitting to surround a concert of Christmas music with a distinct Afrocentric vibe.
Join The Nathaniel Dett Chorale as they tell the age-old story of expectation, hope, redemption and freedom wrapped up in the promise of a newborn child. An Indigo Christmas  – Live offers arrangements of carols spirituals and songs, some with an African shout, a Caribbean twist, a Jazz treatment, or a Gospel blast of hope and joy. African percussionists Kwanza, Kenneth and Nation as well as the Joe Sealy Trio and blues diva Jackie Richardson combine their talents to help us create an overarching mood of festivity. I trust that you will enjoy this exciting variety of seasonal music drawn from a cross section of African heritage traditions as you celebrate with us An Indigo Christmas.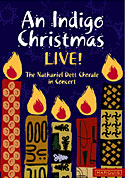 An Indigo Christmas LIVE! (DVD) – The Nathaniel Dett Chorale in Concert
Join the renowned Nathaniel Dett Chorale at their Indigo Christmas concert, with special guests award-winning jazz pianist Joe Sealy and the legendary jazz and gospel singer Jackie Richardson. Spend an hour with with this inspiring 20-member choir as they sing a rich blend of music from traditional carols to Nigerian spirituals to jazz.
Photographed on film, bridged by interview and shot on location at the Church of St. George the Martyr in the heart of Toronto, An Indigo Christmas captures the spirit of the season for viewers of all cultural backgrounds.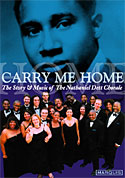 Carry Me Home – The Story & Music of The Nathaniel Dett Chorale
In Carry Me Home – The Story and Music of The Nathaniel Dett Chorale, filmmakers Liam Romalis and Gerald Packer create a Gemini award-winning portrait capturing conductor Brainerd Blyden-Taylor and his extraordinary 21-member Chorale. This acclaimed ensemble brings fire and energy to some of R. Nathaniel Dett's most inspirational works, along with the music of other famed Afro/American composers.
Through interviews with such luminaries as jazz pianist and educator Ellis Marsalis, the late conductor and composer Moses Hogan, Grammy-winning musicologist, Rob Bowman, and Canadian singer Mary Lou Fallis, the film provides insight on Dett's path-breaking compositions and his influence on black music in North America.
Upcoming
Shows
Don't miss the Chorale in performance!